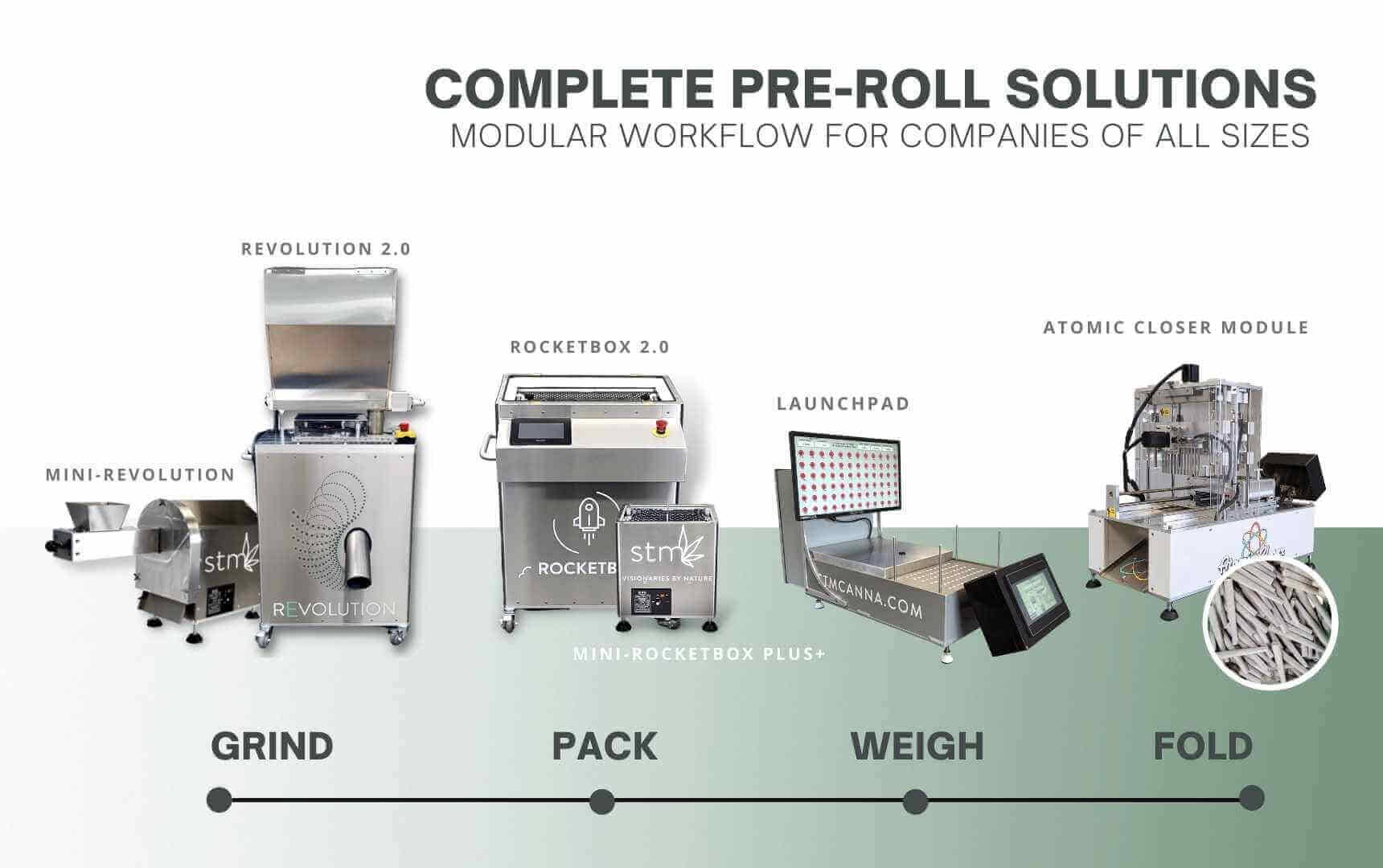 Save Labor, Time & Increase Profits
The main advantages of STM canna's turnkey systems are: lower start up costs to save you money, greater production output to increase profits, and a complete system which is 100% scalable, easy to use and maintain.
See Our Signature Workflow in Action!
Learn about STM Canna full turnkey modular workflow from Grind > to Pack > to Weigh > to Close in 15 minutes.
STM Canna's modular systems out performs any all-in-one pre-roll machine in ease of use, clean-up, production output and scalability.
Modular Systems for Companies of All Sizes
The typical STM Canna turnkey package includes everything you need from grind, to pack, to weigh, and to close.
This includes a low heat grinder to preserve terpenes, a pre-roll machine to efficiently pack 72 cones fast, a scale to weigh 72-joints at once & a closer to fold 72 dutch crown finishes in 45 seconds.
Pre-Roll Experts 5 Years In a Row
STM Canna designs, manufactures, and assembles all machines in the USA. We also provide all the training, and servicing through our excellent, knowledgeable client services department.
A Leader In The Industry
STM Canna's Products
Made in the U.S.A.
Veteran Ownership
Serves Clients in 41 U.S. States, and 7 international countries.
Continuous product development and innovatation of new products every year.
STM Canna has hundreds of satisfied customers in 41 U.S. States and 7 countries.
"I am extremely happy with our experience with STM Canna."
"This is the only cannabis grinder (Revolution) that's good enough for the Ice Box Flat Farms pre-rolls."
"The RocketBox sets the standard for pre-roll machines."
"Our efficiencies have increased, labor costs have gone down, and it makes a superior product all around."