STORE
Shop the Rocketbox pre-roll machine, Revolution industrial cannabis grinder, pre-rolled cones, and accessories.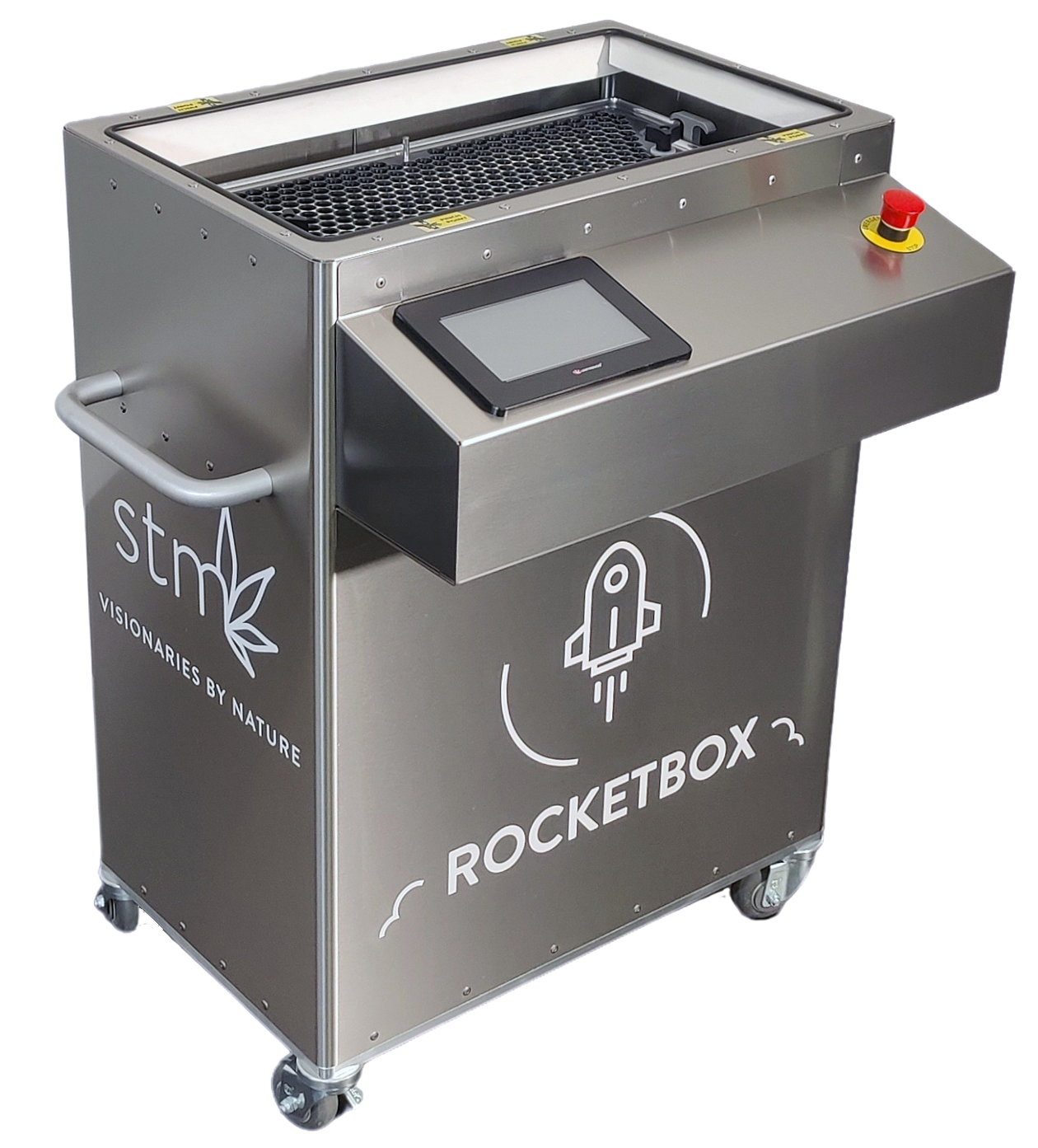 STM RocketBox 2.0 Pre-Roll Machine (SPECIAL PRE-ORDER)
SKU STM-RB2
Product Details
**SPECIAL PRE-ORDER PRICING ENDS AUGUST 6TH, 2020**
STM ROCKETBOX 2.0


SMARTER, FASTER AND MORE PRECISE.


- 453 Pre-Rolled Joints Per Cycle
- Compatible with 84, 98 and 109 MM Cones
- Proprietary Smart Density Software to Measure & Achieve Weight Accuracy
- Variable Frequencies of Vibrations for Even Filling & Packing
- Built-In Training Mode with Tutorials
- Precise, Consistent and Repeatable Results


BENEFITS
- 6x to 7x's Faster, Decreases Labor for All Size Operations
- Durable for Long-Term Commercial Use
- Easy On-Boarding and/or Training After Turnover
- Density Calculator for Scientifically Accurate Weights
- Up to 25,000 Joints Daily (grow, scale & co-pack)
- Attachment-Capable (Sifter Launching 2020-2021)
RENOWNED TRAINING & SUPPORT
- Dedicated STM Client Services Team
- Exclusive Client Portal with Library of Training Videos and Information
1 x STM RocketBox Pre-Roll Machine
1 x Bottom Tray
1 x Top Tray
1 x Loading Box
1 x Finishing Base
1 x 1-Year Parts and Labor Warranty


---
If you have any questions before purchasing, please contact us using our website chat, email us at [email protected] or reach us via phone/text at (509) 204-3165. Shipping cost does not cover any customs-related charges for international orders.


Save this product for later