Sub-Zero Revolution
Grind Cryo Frozen Product which is excellent for live resin, solventless, pre-rolls, and other post-harvesting processes.
Shop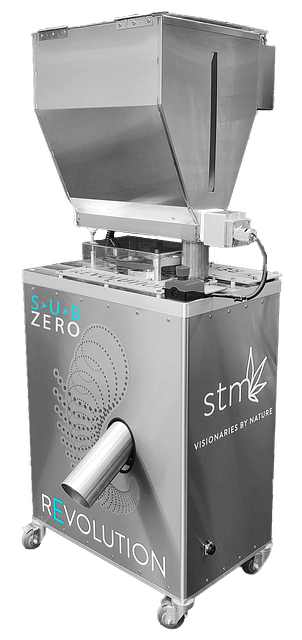 Grinds Frozen for the Freshest Pre-Rolls and Extraction.
Designed specifically for cannabis, the Revolution Sub-Zero cannabis grinder delivers a homogenous, consistent grind, optimal for evenly packed pre-rolls and high-yield extraction. Suitable for dry/cured or cryogenically frozen flower, the reimagined Sub-Zero prevents subsequent degradation of volatile terpenes, trichomes, and cannabinoid profiles by grinding in a low temperature-controlled environment.  What is the Cryo process and how does it work?
The Revolution Sub-Zero is based on STM Canna's original design of the Revolution 2.0 commercial cannabis grinder and utilizes an extremely sharp dual-blade system which maintains maximum potency by directly slicing through flower with precise, scissor-like motions to achieve the cleanest cuts possible and the most optimal homogenous grind. Combined with this pre-existing technology, the Sub-Zero's features further encourage degradation to an even lesser degree, making it an invaluable addition to brands seeking to increase ROI and product quality.
What is Sub-Zero Grinding?
STM Canna identified a market absence of commercial-grade cannabis grinding technology that supports today's relevant methods of processing and extraction using low-temperature cannabis and/or conditions.
The Revolution Sub-Zero addresses this need with its innovative approach aimed at providing hemp and marijuana facilities the ability to grind material in low-temperature environments that are known to further preserve cannabinoid profiles and minimize degradation.
Because cryogenics are used to avoid degradation of monoterpenes and cannabinoids post-harvest, a low-temperature grind in the Sub-Zero allows for the continuity of this type of preservation to achieve an ultimately superior cannabinoid profile and final product. This also makes The Revolution Sub-Zero cannabis grinder ideal for Live Resin, Rosin extraction, and other processing methods.
Features
15-30 LBS Per Hour of Flower
Interchangeable Fine & Coarse Particle Screens for Extraction & Pre-Rolls
Sub-Zero Freezer and Refrigerator Safe

Helps Maintain Organic Compounds for Peak Potency, Flavor, and Aroma

Aids in Increasing Uniformity for Higher Efficiency & Yield in Extraction

Excellent for Live Resin, Solventless, Pre-Rolls, and Other Post-Harvesting Processes

Built-In Pre-Heating Technology & Temperature-Control

Auto-Blade Oscillation Creating Scissor-Like Cuts
Self-Regulating, Closed-Loop System to Prevent Clogs
Homogenous & Consistent Particles
7%-10% Optimal Moisture Content
Auger Timing & Blade Speed Control
Designed, Manufactured & Assembled in the USA
OSHA Compliant Multi-Point Safety System
What's Included
(1) STM Revolution Sub-Zero Grinder
(1) Fine Particle Screen
(1) Coarse Particle Screen
(1) Pair of Cut-Proof Safety Gloves
(1) 12-Month Parts & Labor Warranty
Benefits of the Revolution Sub-Zero Grinder
 Freeze-drying stabilizes compounds in cannabis, providing a high quality potent product rich in terpenes and cannabinoids and preserves freshness. Live resin makes better concentrate. What is live resin?
The Sub-Zero components are designed to withstand -20 F temperatures.
Grinds Cryogenically Frozen
Your content goes here. Edit or remove this text inline or in the module Content settings. You can also style every aspect of this content in the module Design settings and even apply custom CSS to this text in the module Advanced settings.
Revolution 2.0
Grinds 15-30 Lbs Per Hour of Dry Flower

Self-Regulating System to Prevent Clogs

Auger Timing & Blade Speed Control

Touch Screen Operation
Revolution Sub-zero
Grinds Cryogenically Frozen Flower

Sub-Zero Freezer and Refrigerator Safe

Excellent for Live Resin Extraction

Built-In Pre-Heating & Temp Control 
Mini-Revolution
Variable Speed Control

Quiet Operation

Easy to Clean

Ergonomic for Small Production Spaces