To marijuana & hemp cultivators and processors, our U.S.A. made, efficient commercial-grade products are cutting edge, eco-conscious and provide cost-effective processing because we believe in premium quality, supporting our community and conserving the environment.
The Real Pre-Roll Experts!
STM Canna has been on the leading edge of innovation in the cannabis equipment manufacturing space for over 5 years. We offer sophisticated technology solutions and industry-leading commerical pre-roll machines and extraction production equipment including the Revolution industrial cannabis grinder.
Based out of Spokane, WA, STM Canna has helped hundreds of cultivators, harvesters, and commercial cannabis processing facilities optimize and scale their production capabilities.
All of our product design and development verticals are handled in-house, to ensure rigorous quality control and the use of superior quality raw materials in every machine's production.
Our products are a result of over 20 years of expertise in design, prototyping and manufacturing by innovators with a deep understanding of the needs of both cannabis producers and users.
With clients in 41 U.S. States, as well as international clients in Canada, U.K., Israel, Australia, Mexico, Poland and South Africa. STM Canna is recognized as a global leader in commercial cannabis processing.
Investing in STM Canna is an investment in your future as STM continues to innovate and create with many exciting new machines and systems in development. 
STM's STORY
Over the Years
STM was founded in Spokane, Washington and now a leading manufacturer in the cannabis processing industry.  We design, engineer and manufacture everything in house.
2017
Rosin Press 4.0 & RocketBox Commercial Pre-Roll Machine launched
The Rosin Press 4.0 was the first commercial grade rosin press on the market and the first STM Canna product. Soon followed by the industry first and leading RocketBox commercial pre-roll machine.
2019 June
Revolution Commerical Cannabis Grinder Released
At MJBizCon New Orleans was the release of the Revolution industrial cannabis grinder to save the terpenes of the world from whipped destruction.
2019 December
Mini-RocketBox pre-roll machine launched at MJBizCon 2019
Built with the same technology as the RocketBox, the Mini-Rocketbox pre-roll machine has taken the cannabis pre-roll machine market by storm with almost a 50% higher capacity per run than the KnockBox 3.
2020 September
Release of the new and improved RocketBox 2.0 Pre-Roll Machine and the Revolution 2.0 Industrial Cannabis Grinder
Following the success of the industry leading RocketBox pre-roll machine and Revolution grinder, STM engineered new features to enhance productivity, user friendliness and accuracy with the built-in smart technology and training mode.
2021 March
Launch of the Revolution Sub-Zero Commercial Cannabis Grinder
The Revolution Sub-Zero cananbis grinder model was launched for dry/cured or cryogenically frozen flower processing. The Sub-Zero prevents subsequent degradation of volatile terpenes, trichomes, and cannabinoid profiles by grinding in a low temperature-controlled environment.
2021 April
The All-New Mini Revolution Cannabis Grinder is released
The all-new Mini-Revolution cannabis grinder is taking the market by storm delivering s a homogenous, consistent grind. Don't whip the terpenes and cannabinoids out of your product! We won't allow it!
October 2021
Pre-Release of Atomic Closer Automated Pre-Roll Machine
The all-newAtomic Closer automatic pre-roll machine pre-release at MJBizCon 2021.
February 2022
Official Release of Atomic Closer and LaunchPad Scale
Official release of the LaunchPad commerical grade scale which weighs our 72-count tray in seconds and the Atomic Closer which closes that same tray of 72-joints in just 45 seconds fast!
With several new machines in development STM Canna is positioned to be the #1 USA manufacuturer of post harvest equipment.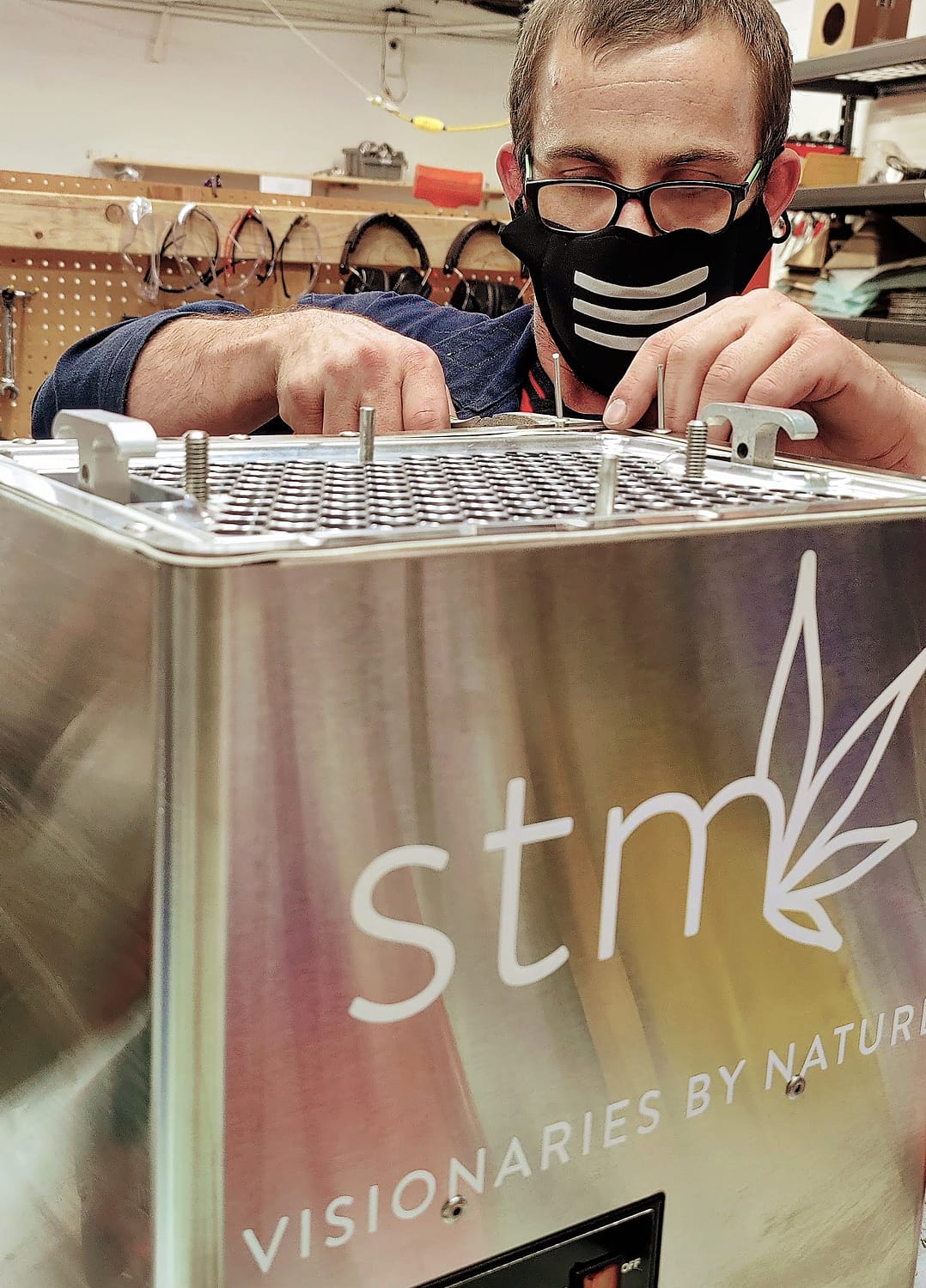 STM Canna
Become Part
of Our story