The Fastest Auto Closing Pre-Roll Machine Available!
The Atomic Closer is the only ultra compact and expandable modular pre-roll closing machine available designed to incorporate the human touch for a true premium quality look and feel. Crowns joints – no twist allowed!
Close 72 joints with a crown fold in just 45 seconds!
Compatible with sizes: 84mm, 98mm (incl. reefer), 109mm & Dog Walkers.

The Atomic Closer can crown 72 pre-rolls every 45 seconds. Pair it with the STM workflow package & you have a complete system that not even a fully automated machine can match in terms of user friendliness, production output & scalability on the fly.
72 Joints in 45 Seconds Fast!
Closes a tray of 72 pre-rolled joints every +/- 45 seconds up to a daily capacity up to 11,500* (1 tray).
Easy to Use. Fast & Painless to Clean.
The Atomic Closer joint closing machine is simple to use and quick & easy to clean in minutes.
No Twisting, Fold Crown Only!
Crown Folds Joint Ends into a Consistent fold eliminating the industry's #1 pre-roll bottleneck!
Compatible with the Leading RocketBox.
Simple to Scale & Expand Output
Grow & Scale just by adding more trays. More trays = more joints per hour, per day & per week.
Made in USA With 2-Year Warranty.
Durable stainless steel & aluminum construction with food grade materials. Made in the U.S.A.
Boasting an ultra compact footprint, this one-of-a-kind joint auto joint closing system can operate on a tabletop in facilities of all sizes, eliminating the industry's #1 pre-roll bottleneck.
Up To Closed Per Hour (1 Tray)
Up To Closed Per Day (1 Tray)
Up To Closed Per Hour (3 Trays)
Up to Closed Per Day (3 Trays)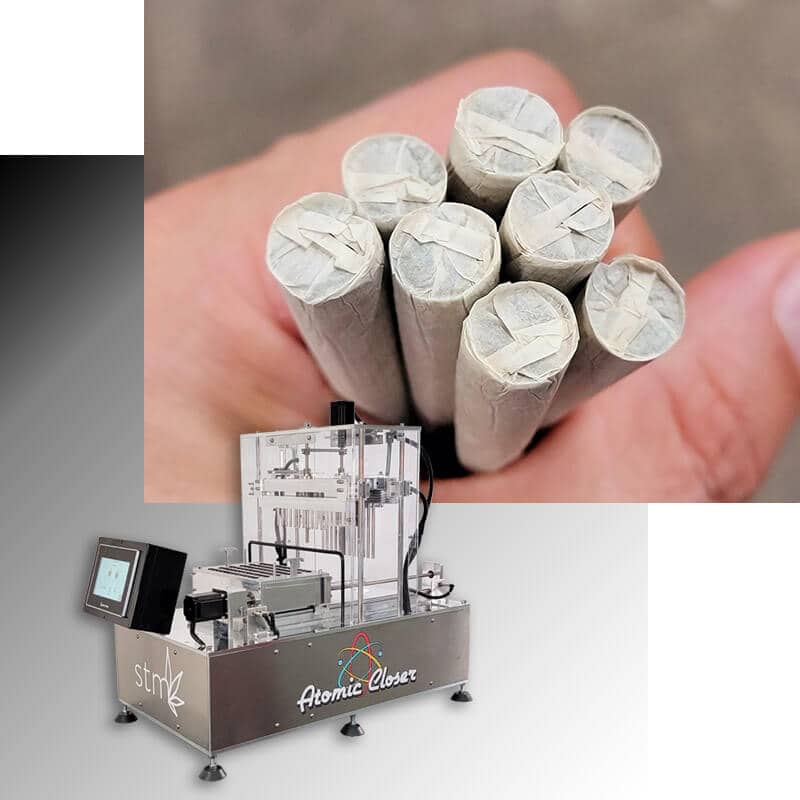 A Faster, More Intelligent
Auto Closer.
Closing pre-rolls is time consuming and ultimately the most costly labor component of the pre-roll manufacturing process. The compact Atomic Closer automatic pre-roll closing machine reduces costs and increases production simultaneously especially when paired with other STM products such as the Revolution grinder and RocketBox pre-roll machines.
Capable of closing 72 pre-rolled joints in a blistering 45 seconds, the Atomic Closer is perfect for small to large facilities looking to scale and grow production and efficiencies.  Select your joint size on the touch screen control and press start. That's it!
The Atomic Closer automated pre-roll machine crown folds finished joints to give it that hand-packed feel instead of a twist, resulting in a much more professional looking pre-rolled joint which burns evenly (no canoeing).
It is by far the easiest closing machine on the market to use with fast, consistent results and super simple to clean and maintain. 
Complete
Pre-Roll Solutions
Modular Turnkey Workflow for Companies of All Sizes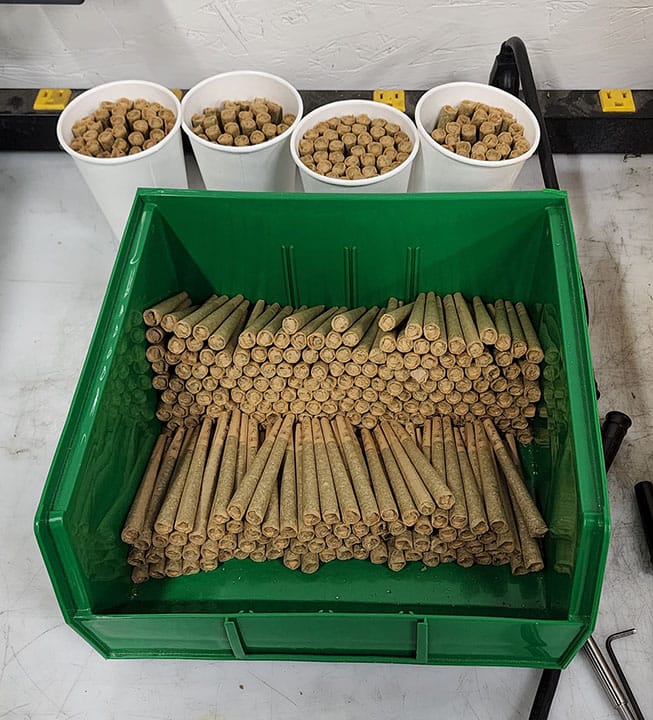 As with all of STM Canna's machinery, the Atomic Closer can function independently, however, it is much more efficient as part of STM Canna's complete workflow system from grind to close.
STM Canna has a complete pre-roll workflow system to maximize your operation from grinding to packing to weighing and closing.  STM Canna's unique and proven workflow is easily scalable as your business grows.
When you invest with STM Canna you invest in your future as STM continues to innovate, improve and expand.
Grind.

Pack.

Weigh.

Close.
Click Here to Learn More About the Atomic Closer
The Atomic Closer is the first and only compact modular auto pre-roll closing machine for companies of all sizes. It is one component in an expandable system and compliments other STM products such as the Revolution grinders, RocketBox pre-roll machines and LaunchPad weigher for a complete, customizable & scaleable workflow.
STM Canna has hundreds of satisfied customers in 41 U.S. States and 7 countries.
"I am extremely happy with our experience with STM Canna."
"This is the only cannabis grinder (Revolution) that's good enough for the Ice Box Flat Farms pre-rolls."
"The RocketBox sets the standard for pre-roll machines."
"Our efficiencies have increased, labor costs have gone down, and it makes a superior product all around."
* Results depend on your proper training and use within the STM recommended workflow, process, material used, machines, accessories and personnel, this will obviously vary.
* The numbers are represented as an example using one Atomic Closer and 1-3 trays. Each tray will close roughly 864-1440 per hour, for a total of 6912-11,520 per day with an optimize workflow. Adding more trays increase output capacity.
* The Atomic Closer will work with other pre-roll machines such as the Knockbox, however, you are required to use the proprietary STM 72-joint trays which only work in the auto closer and obviously hourly and daily output would be less due to extra steps in the process.