"I am so happy we decided to purchase the Mini-RocketBox rolling machine. The customer service and support has been over the top. I would recommend STM to anyone who wants a pre-roll machine."
Tony, Bud Shack – Ontario, Canada

The Powerhouse Mini RocketBox Plus can fill & pack a tray of 72 or 143 joints in 30-60 seconds and up to 11K a day with more trays.
Adjustable Top Tray regulates fill volume for more accurate weights. This allows you to fine-tune and compensate for under or over fills.
Because paper cones are handmade and slightly inconsistent, the Lift Plate levels cones from the bottom for a more even fill.
The Mini-RocketBox plus controls the amount of filling and packing so no need to pre-weigh material. Just dump & go, then reclaim excess.
The Mini-RocketBox PLUS+ commercial pre-roll machine is the industry leader which combines power, efficiency, and versatility to maximize pre-roll production output.
Capable of producing a blistering 72 or 143 pre-rolled joints in 30-45 seconds or less, the Mini-RocketBox joint rolling machine is perfect for small to large facilities looking to scale and grow production and efficiencies. 
Reducing costs and increasing production simultaneously is a win-win with the Mini-RocketBox Plus joint roller. No other machine delivers efficient and systematic results consistently!
The Mini-RocketBox Plus+ proves its versatility over every other compact joint rolling machines with the ability to fill and pack multiple pre-roll sizes including 70mm "dogwalker" mini-joints, 83mm cigarette style joints, 98 reefer and the standard 84, 98 and 109 sizes.
The Mini-RocketBox Plus+ also comes with either a 72-count joint tray or 143-count tray. The difference in which tray to use depends on whether you are using the Mini-RocketBox Plus as a stand alone joint packing machine or as part of STM Canna's turnkey system to maximize your prodution workflow. The 72-count tray works works in the STM LaunchPad scale and the Atomic Closer automatic joint closing machine.
Great machine, simple to use, great customer service. Short learning curve, makes some of the best joints out of several machines I've tried.
Get your Mini-RocketBox PLUS+ joint rolling machine today.
See the Mini-RocketBox in Action!
Watch the New STM Canna Mini-RocketBox Plus commercial pre-roll machine effortlessly and expeditiously, fill and pack consistent joints at rocket speeds of 30-45 seconds or less. 
Our exclusive RocketBox technology allows you to produce up to 43% more per cycle than the Knockbox 3 at more than twice the speed, maximizing your production output, reducing your labor costs and increasing your daily profits.
The Best Compact Pre-Roll Machine
Mini-RocketBox+ vs Futurola Knockbox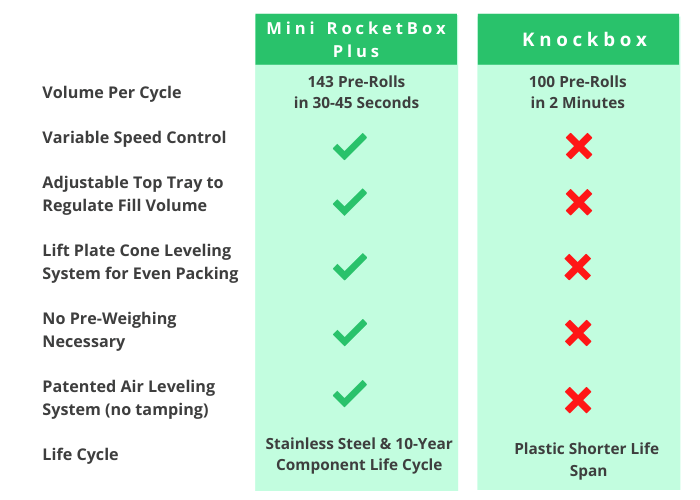 Satisfied RocketBox Customer 
Kings Garden, California
Technical Specifications
| | |
| --- | --- |
| Name | STM Mini-RocketBox |
| Brand | STM Canna |
| Weight | 35 lbs. |
| Warranty | 12 Months Parts & Labor |
| Dimensions | 14″ L x 17 " H x 10″ W |
| Watts | 2310 Watts |
| Voltage | Standard 110v – 3 Prong Plug |
| Amps | Full-Load 5.2 Amps |
| Manufactured | Washington, USA |
| Material | SAE 304 Stainless Steel |
| OSHA Compliant | Yes |
| Cord Length | 7 feet |
| Life Cycle | 10 Years or 8,000 Hours |
| Portable | Yes |
| Operation | Manual Control Panel |
Mini-Rocketbox PLUS+
72-143 pre-rolled cones in 30-45 seconds

84mm, 98mm & 109mm, (70mm Dogwalkers & Cigarette Style available)

Food grade components

Great for small to large facilities

Variable adjustable dial for complete filling & packing control

Durable, commercial grade construction and components

Compact and portable
Rocketbox 2.0
(2) 72-453 pre-rolled cones per 1 minute cycle

84mm, 98mm & 109mm, (70mm Dogwalkers & Cigarette Style available)

Food grade components

Proprietary built-in smart density software to achieve weight accuracy

Built-In training mode with video tutorials and user manual

6-7x faster than other pre-roll machines

Commercial grade construction and components
STM Canna has hundreds of satisfied customers in 41 U.S. States and 7 countries.
"I am extremely happy with our experience with STM Canna."
"This is the only cannabis grinder (Revolution) that's good enough for the Ice Box Flat Farms pre-rolls."
"The RocketBox sets the standard for pre-roll machines."
"Our efficiencies have increased, labor costs have gone down, and it makes a superior product all around."